Workswell is a Central European design and manufacturing company with headquarters located in Europe – Prague and established in 2010. The company is focused on developing, producing and selling thermal imaging cameras, systems and solutions for Industrial, R&D, OEM and Medical applications.
Products and systems from Workswell enhance the manufacturing processes of numerous European car companies. If you drive a recent model produced by BMW, Škoda, Renault and Kia, it is likely that one of Workswell's thermal imaging systems played a part in the creation of your car's components. Workswell also has many customers outside of the automobile industry, including Bosch, Honeywell, Tesco, Heineken, Kofola, IKEA, Net4Gas, Semikron, ArcelorMittal, and other companies of varying sizes.
Customers aren't just looking for products – they are searching for solutions. That means that customers are looking for products with added value, and a company that supports them long after the sales cycle ends. Workswell has a simple goal – to offer products based on advanced thermal imaging sensors and deliver end-to-end solutions that resolve customer needs. Workswell was founded to produce better products that aid in search and rescue operations, improve agriculture, and enhance fire remediation.
"Our mission is the delivery of complex products & solutions, as well as individual elements for non-contact temperature measurement and data evaluation."
All services in one place
Today, we are proud to say that Workswell delivers complex systems and individual elements for non-contact temperature measurement and data evaluation across: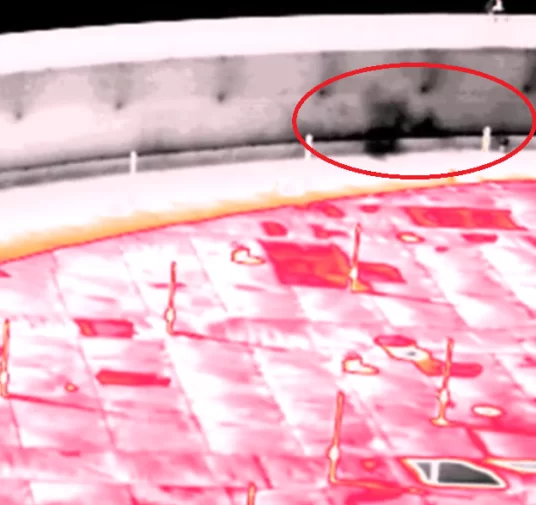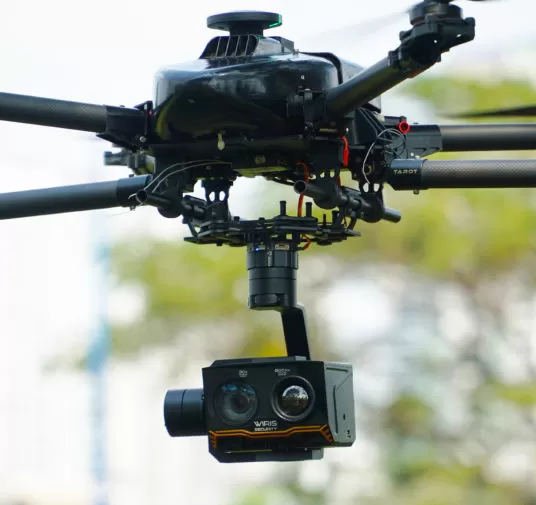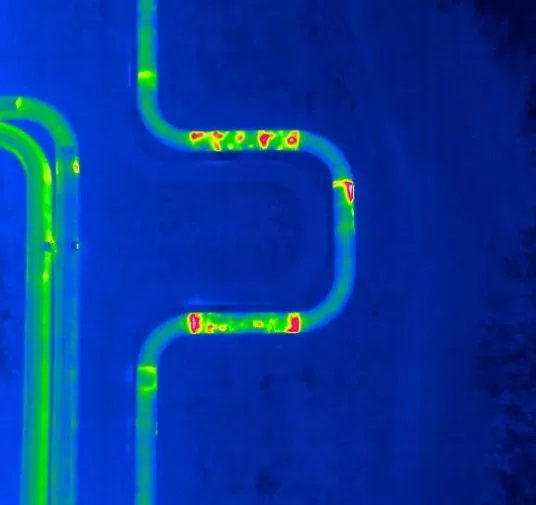 Process control in industry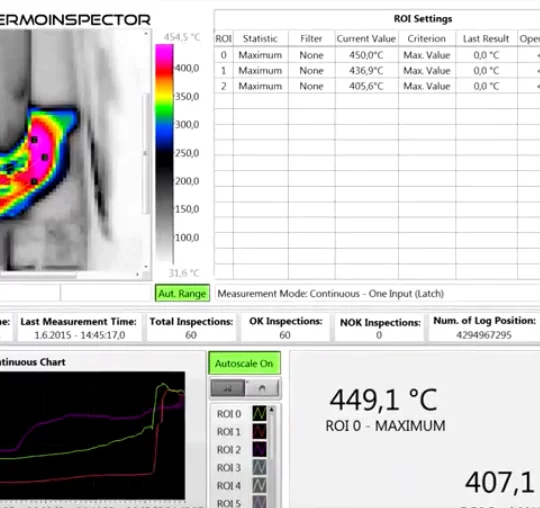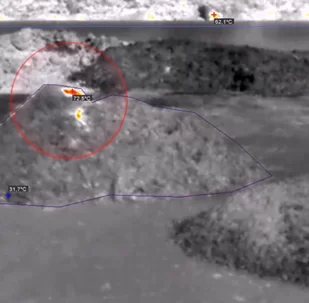 Workswell also provides OEM products like OEM cameras for drones (thermal cameras adapted to customer UAV applications or platforms), USB3 and GigE modules for thermal cores, and the OEM ThermoInspector. You can also find many of our products as part of a third-party solution.
Workswell's products are also successful in aiding universities and research organizations around the world. We partner with leading academic institutions to drive product innovation and advance a wide range of technologies. Our customers include the Massachusetts Institute of Technology (MIT), John Hopkins University, the Hebrew University of Jerusalem, École polytechnique fédérale de Lausanne, the Georgia Institute of Technology, and the US Army Engineering Research Department.
technology for leading brands
Products and systems from Workswell assist in the production of car components for a number of European manufacturers. If you drive any of the latest models of cars from BMW, Škoda, Renault, Kia and others, then during the production of various components of your car, the thermo vision or another system from Workswell was used. Workswell has also amassed a number of references from outside the automotive industry that includes clients such as ČEZ, RWE, Bosch, Honeywell, Tesco, Heineken, Kofola, IKEA, Net4Gas, Semikron, ArcelorMittal, Vítkovice power engineering and hundreds of further small, medium and large sized enterprises.
Regular clients of Workswell include both domestic universities and research organizations as well as foreign institutions such as John Hopkins University, The Hebrew University of Jerusalem, École polytechnique fédérale de Lausanne, Georgia Institute of Technology, US Army Engineering Research and many others.
An Intense Focus on Innovative Solutions
Workswell operates in a highly developed and competitive market that challenges companies to innovate. Workswell thrives in this high-pressure environment because of its unique approach and one-of-a-kind products. These include the GIS 320 – OGI (optical gas imaging) camera for use with UAV and drones and the WIRIS Pro, which is the most advanced drone thermal camera for industrial inspection. In addition, we are proud of ThermoInspector – a system that facilitates the rapid deployment of thermal imaging systems in industrial automation without the need for programming.
Workswell's key technologies include thermal sensing, machine vision, artificial intelligence, software and analytics, unmanned solutions, and integrated systems.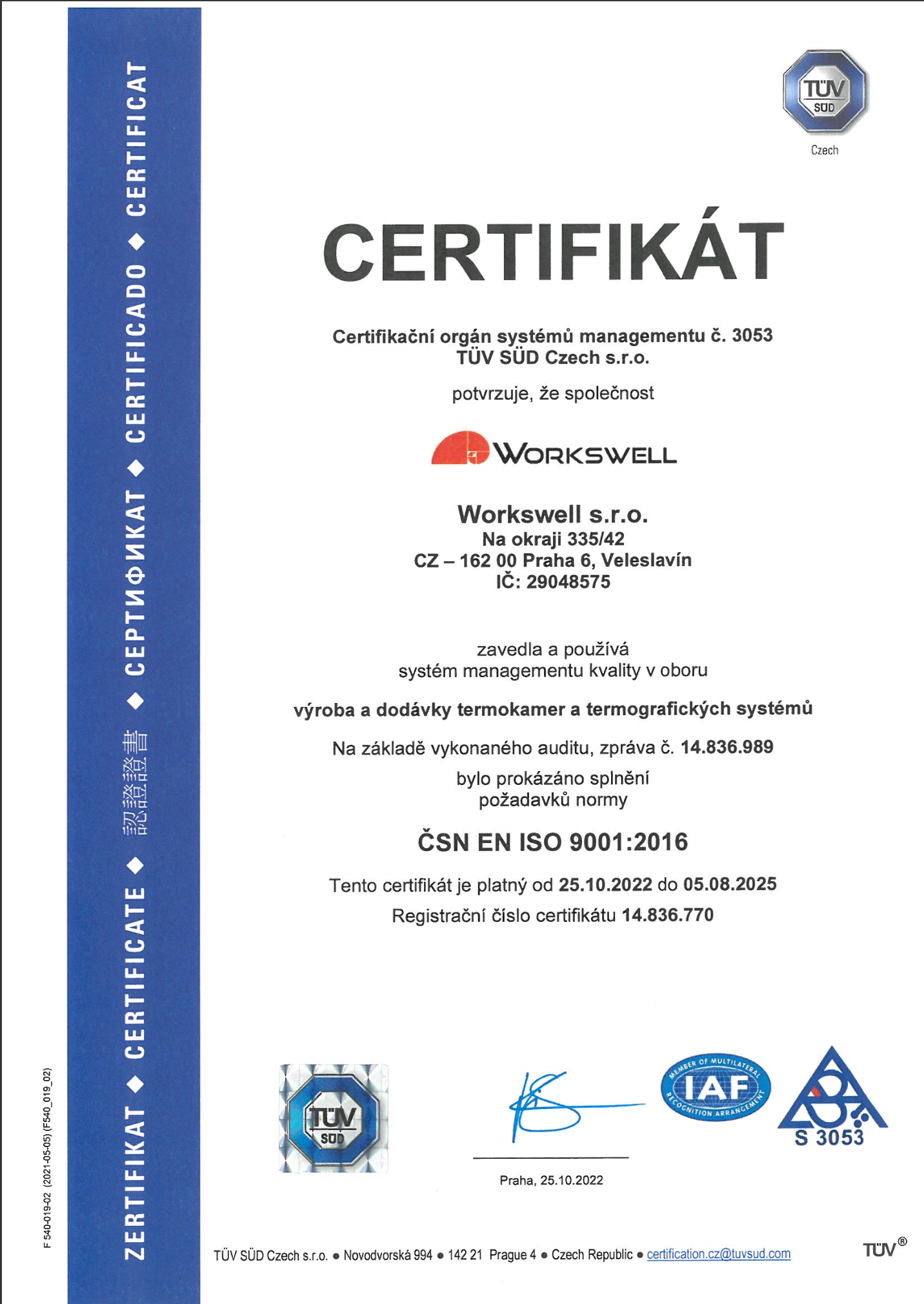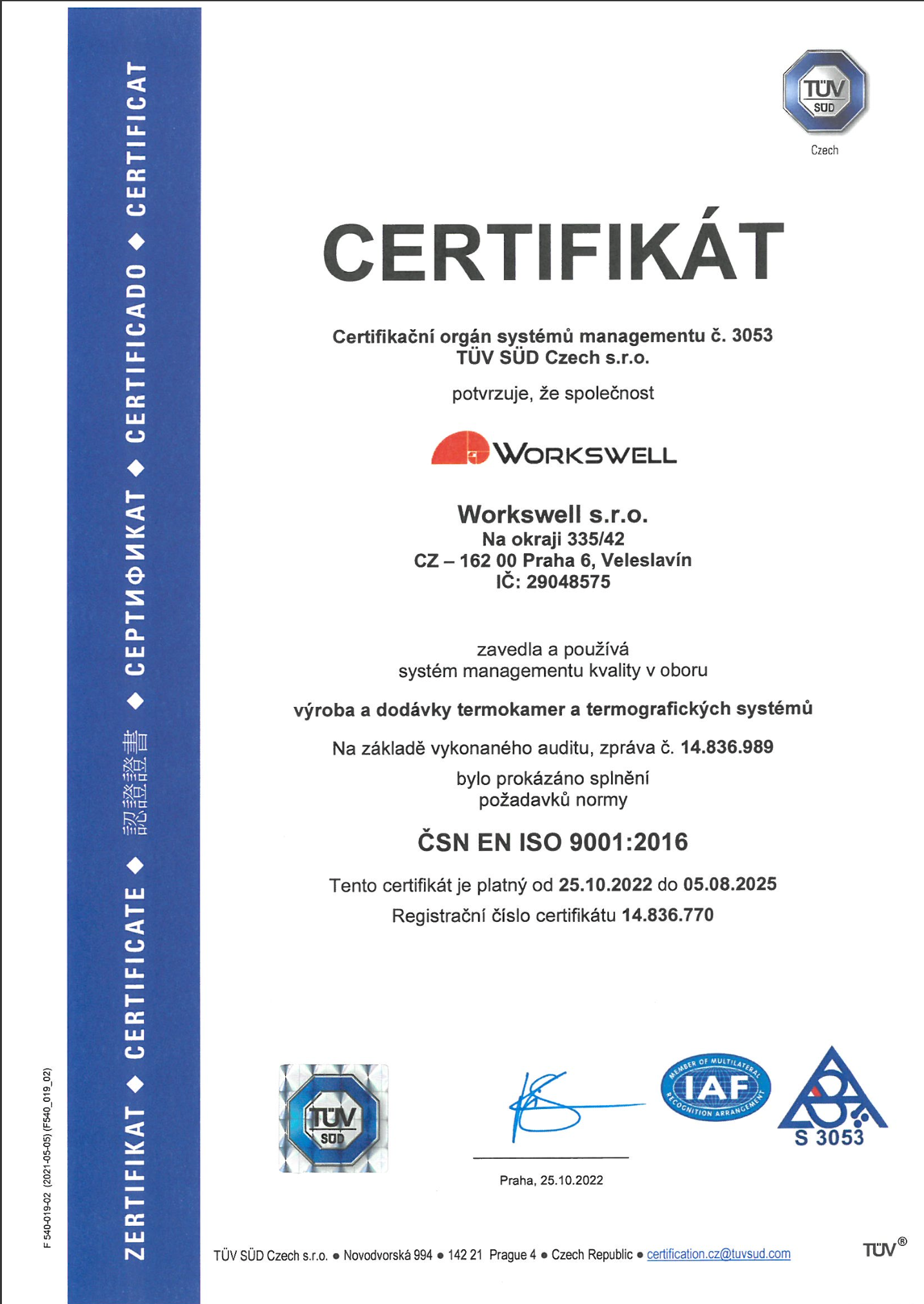 Workswell s.r.o. applies a quality management system complying with ISO 9001:2016 in the field of "Production and delivery of thermal imaging cameras and thermographic systems certification authority: TÜV SÜD (certificate number: 14.836.770).
EDUCATION – POSSIBILITY OF PROFESSIONAL CERTIFICATION ACCORDING TO ISO 18436-1
Company Workswell is an Association of Technical Diagnostics of the Czech Republic approved training workplace for teaching according to ISO 18436-1 with regard to other relevant technical standards, as stated in the relevant requirements sheet for applicants for certification of persons for function – Technician of thermography diagnostics.
Open to a New Investor Relationship
Temperature measurement is the second most common measurement in industry. Thanks to continuous innovation, thermography is a growing market that breaks into new sectors on a regular basis. Due to its many night vision applications, it is also a strategic tool for national security efforts. Workswell is open to a new investor relationship in order to offer new products within the ever-growing thermography market.
Workswell is building and constantly expanding an extensive network of partners to offer premium products and services, including consultations in most countries in the world. You can contact our partner network directly through our website.
If your company is operating in a related field with a strong focus on your local market, do not hesitate to contact us to discuss a possible cooperation or partnership.