WIRIS Security
Presenting Workswell's solution for security and search & rescue operations: The WIRIS Security. This LWIR (7.5 – 13.5 μm) thermal camera is designed for use with drones, and it has a critical role to play in life-and-death situations.  This instrument offers a high-resolution thermal camera (800x600 px), 30x optical zoom in the RGB spectrum, and excellent temperature sensitivity. What's more, the WIRIS® Security is encased in a rugged construction made of lightweight aluminum. Recommended applications include building and perimeter surveillance, searching for missing persons, firefighting operations, and a wide range of other critical applications.
Highest sensor resolution on the market

30x optical RGB zoom

Night Vision Cut filter
Camera delivers both thermal and visual images
The WIRIS Security thermal camera is designed for most challenging search and rescue appliacations.
Live, high-resolution and high-image-frequency visuals delivered straight to the screen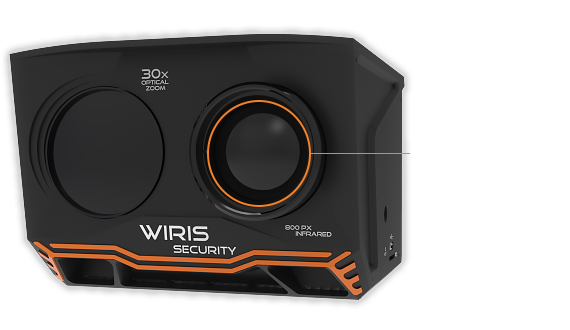 High Resolution & Thermal Sensitivity
The WIRIS Security thermal camera offers an unrivalled resolution of 800×600 px – and its thermal sensitivity clocks in at 40 mK! No other drone-mounted thermal imaging camera can offer these parameters.
Precise Night Vision RGB Camera
The Workswell WIRIS Security camera comes equipped with an incorporated specialized visual band imagery RGB camera with high-sensitivity dusk and night vision and 10x optical ZOOM. Thus, the RGB camera image is clear even at minimum light of 0.0008 lux. The camera's focal length is variable within an interval of 129.0 mm – 4.3 mm, and it equals up to 30x optical ZOOM.
The WIRIS Security offers the highest resolution on the market for both the RGB sensor and the thermal imaging sensor. In search and rescue operations, resolution is not just a technical parameter. In practice, it may well be the difference between life and death. We stay on the cutting edge of camera quality because resolution matters.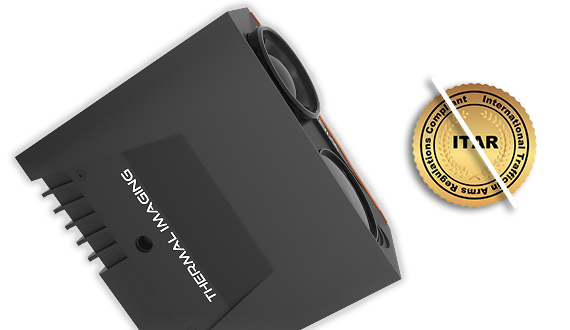 This camera is categorized as a NON-ITAR product, which means that the sale, export, and import of this thermal camera is considerably easier and faster than it would be for an ITAR unit. There are no extensive legal requirements to comply with for the WIRIS Security.
Video Streaming and WiFi commands
RTSP video streaming, image, and command transfer through Wi-Fi are among the other WIRIS OS functionalities. These features are provided by the RJ 45 Ethernet port.
See more information in the Stream SDK tutorial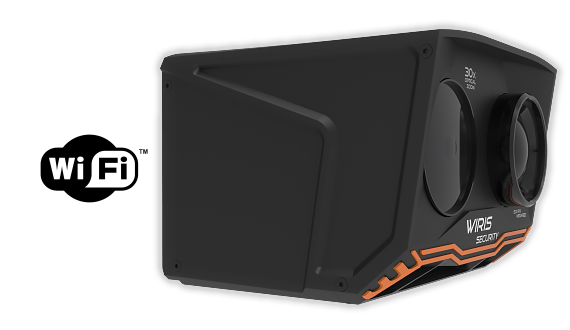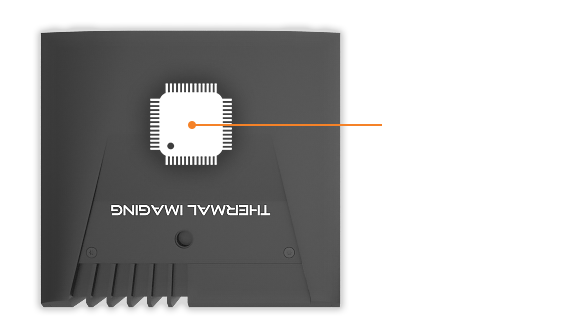 WIRIS OS - Capture the Full Potential
The WIRIS OS operating system has been in development for over 4 years now, and it's been tested on each of the previous generations of Workswell's WIRIS cameras. This platform allows you to maximize the full potential of the camera's sensor and computing hardware – it delivers results that similar products without an operating system cannot even touch.
The Workswell WIRIS Security camera is equipped with an SSD disc with 512 GB or 256 GB memory for recording. It also enables data storage via an external USB disk or microSD card.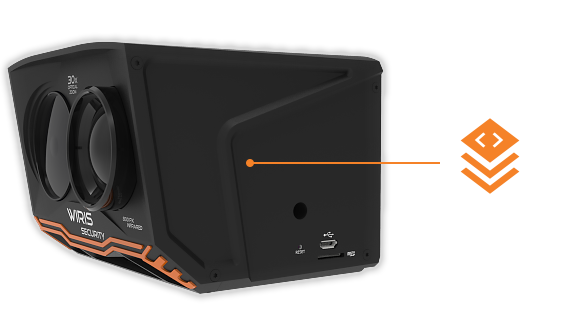 SDK - Develop your own Apps
Along with each Workswell WIRIS Security, we provide an SDK (Standard Development Kit) enabling you to develop your own applications. These libraries give access to low-level functionalities and enable the application developer to fully utilize the camera hardware's potential.
The innovative picture-in-picture feature allows you to merge a thermal image with an RGB camera image in real time, even with 30x optical ZOOM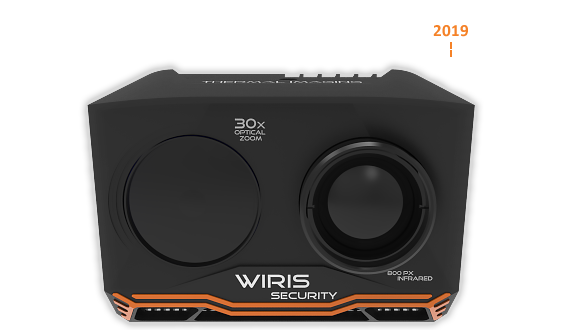 Workswell launched the first thermal camera for use with drones – the Workswell Thermal Vision Pro. Since then, we've delivered numerous changes, revolutionary innovations, and creative variations on what has become the Workswell WIRIS platform. Now, we're offering our most advanced model ever. This generation of the WIRIS Security incorporates all of our experience – everything we've learned from our successes, and our failures. In all we do, we do the best we can.
Workswell's WIRIS weighs less than 780 g, which is very convenient for drone use.

WEIGHT: < 780 g
DIMENSIONS : 111 x 80 x 103 mm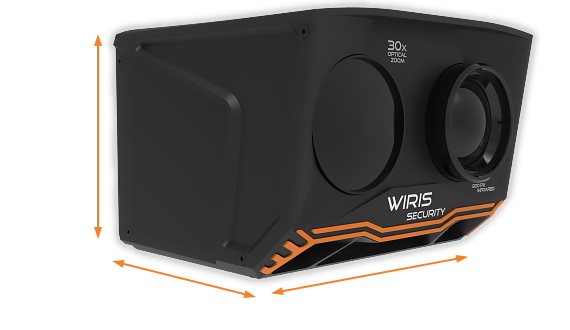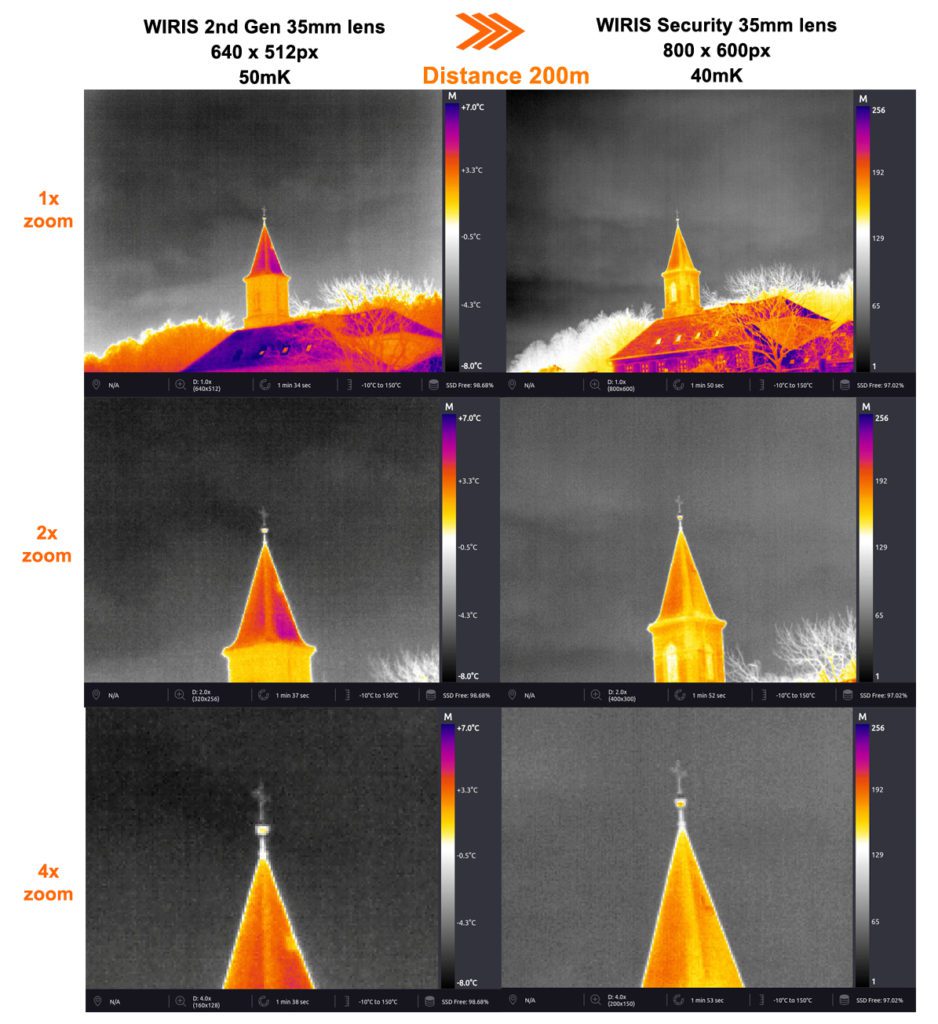 Technical information
Documents & Downloads
Gallery
Technical information
WIRIS Security Key feature specification
High sensitivity Night vision modes in visual Full HD camera
Advanced Noise Reduction Technology

filters noise from the image for clearer results in low-light conditions
the de-fog feature allows clearer viewing in foggy or misty scenes
when the feature is activated, the camera detects the haze level and automatically applies the required effects.

Auto IR-cut Filter Function

in low-light conditions, the camera automatically switches from Day to Night vision mode
the IR-cut filter function allows to boost sensitivity for clear pictures in darkness.

Wide-D Image Processing Technology

gives the ability to see clear, detailed images in high-contrast or backlit environments

Operating onboard system
WIRIS OS for full real-time data streaming and control during the flight

operating system ensures the full access to all camera functions
easy camera control via S.Bus, CAN bus, MavLink, RJ-45 or Trigger

30x Optical Antivibration zoom
Full HD 30x optical zoom camera with anti-vibration compensation
Thermal camera specification
IR camera resolution
800 x 600 pixels
Scene range
-20 °C to +150 °C
Temperature sensitivity
Extra sensitivity of 0.04 °C (40 mK)
Frame rate
25 Hz or 9 Hz
Spectral range / detector
7.5 – 13.5 μm / Uncooled VOx microbolometer
Available lenses
35 mm (21.2° x 16.2°)
Digital zoom
1 – 12x continuous
Digital visual camera
Resolution
1 920 x 1 080 pixels (Full HD), 1/2.8" EXMOR R CMOS sensor
Optical zoom
30x optical zoom with vibration compensation and image stabilization
Minimum illumination
0.0008 lux (ICR on, Slow shutter 1/4s, High sensitivity on)
View angle / Focal length
Ultra zoom 2.3° – extra wide 63.7° / 129.0 mm – 4.3 mm
Focus and exposure time
Autofocus with automatic or manual exposure time control
Image enhancement
Auto-white balance, WDR, IR cut filtering, DEFOG, 3D Noise reduction
Memory and data recording
Memory
Internal high-speed SSD 256 GB or 512 GB for image and video recording
External slot for Micro SD card & USB 2.0 for USB stick for taking images
Image and video formats
Image and video formats
Digital camera Full HD JPEG images
Digital camera h.264 encode video HD recording
Infrared camera h.264 encode video Full frame 25 Hz recording

GPS geo-tagging (image & video)
GPS tagging (image & video)
MavLink or External GPS or DJI A3 controllers compatible via CAN bus
Interfaces & real-time remote control
10-pin digital port
S.Bus
CAN bus (compatible with DJI M600 and A3 controllers)
MavLink
External GPS connectivity
External trigger
CANbus & UART
Ethernet (RJ-45) port
SDK & RTSP video streaming and camera control
Micro USB 2.0 port
USB 2.0 Mass storage
Camera control and video streaming (optional on request only)
Remote control system
WIRIS OS ensures real-time control of all camera functions during the flight
Remote control options
S.Bus protocol
CAN bus for real-time control on DJI M600 and GPS geo-tagging
RJ-45 for wireless uplink installation (video streaming and camera control)

Micro HDMI video output
1 280 x 720 pixels (720p), Aspect ratio 16:9, Micro HDMI video output.
Camera functions
Pallets: 19 changeable pallets for different flying conditions
Multi-camera modes: Full screen mode, IR only, VIS only, Picture in Picture
Periodic capturing: From 1s, IR and VIS images simultaneously
DDE function: Digital Detail Enhancement for high dynamic range imagery
NUC control settings: Automatic or manual
Power supply, weight & dimensions
Input supply voltage
9 – 36 VDC, Coaxial 2.1 x 5.5 mm, outer shell – GND
Power dissipation (avg.)
19 W
Weight
< 780 grams
Dimensions (L x W x H)
111 mm x 80 mm x 103 mm
Mounting
3 x 1/4-20 UNC threads around the camera
Housing material
Durable aluminium body with ABS parts
Environmental
Operating temperature range
-20 °C to +55 °C
Storage temperature range
-30 °C to +60 °C
Documents & Downloads
Gallery