Thermolab is a software for detailed analysis of thermograms, allowing the user to edit the data into different formats and create clear reports from the thermograms. All standard data analysis functions are available in the program (temperature at a point, minimum and maximum of the area, temperature profile, zoom, temperature scale change, color palette, emissivity, etc.) as well as extended functions such as GPS location of the image and the ability to display RGB digital images.
ThermoLab reads radiometric images and videos only from Workswell thermal cameras.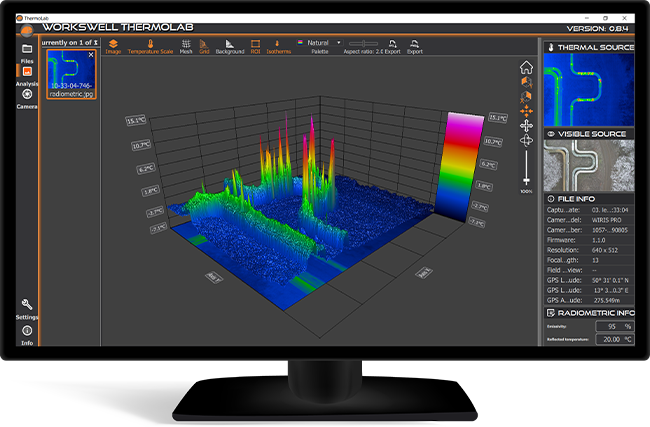 ANALYSE THERMOGRAM -> LOCATE DIFFERENCES -> EXPORT RESULT
With the pixel value indicator you can instantly find the temperature at any point in the image

ROI (region of interest) measures the lowest, middle and highest temperature for quick problem analysis

Choice of 19 professional colour palettes to instantly highlight temperature differences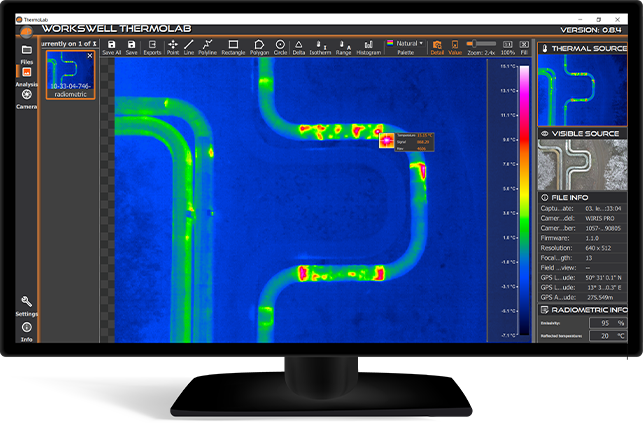 This feature takes thermographic analysis to the next level. With this feature, we can spatially represent significant temperature differences and determine the severity of a possible defect. 3D Graphs are designed to display, for example, surface homogeneity and to Analyse measured temperature data in a 3D representation with a number of advanced features that can be set by the user.
The advantage of calibrated radiometric video is the ability to monitor temperature changes over time. This allows the user to accurately Analyse thermal dynamic processes that cannot be Analysed from a single image.  Video analysis can also be used in the 3D Graph function showing spatial differences over time.
Thermolab's export function makes it easy to create a snapshot, video or numerical temperature matrix in commonly compatible formats such as: jpeg tiff
Setting measurement parameters (such as emissivity, apparent reflected temperature and atmospheric parameters) for both individual images and radiometric video.

Inserting measurement functions: point temperature measurements, minimum and maximum in area, polygonal and triangular areas, temperature profile and other functions.

Display of GPS coordinates on the map and in the case of radiometric video, display of the GPS position of individual frames and the entire trajectory.

Editing radiometric images (thermograms), changing the palette, changing the temperature range.

The camera section is used to process data from a camera connected via USB or Ethernet

The histogram shows the frequency of pixels with the same temperature and works for all ROIs.

Continuous zoom – advanced zooming and display of thermographic image in detail

RGB digital image display option