FLIR is the exclusive global distributor of the Workswell GIS-320 Thermal by FLIR optical gas imaging payload for unmanned aerial systems, unmanned ground vehicles, and mobile platforms.
The Workswell GIS-320 gas imaging system is the perfect solution for leak detection. Its unique pairing of both thermal and digital cameras makes it a versatile instrument. The GIS-320's infra-red camera can be used to identify the escape of specific gases, as well as their presence in the air. It can also enhance environmental safety testing. This positions the Workswell unit as an aid in environmental protection, as well as in human health and safety efforts.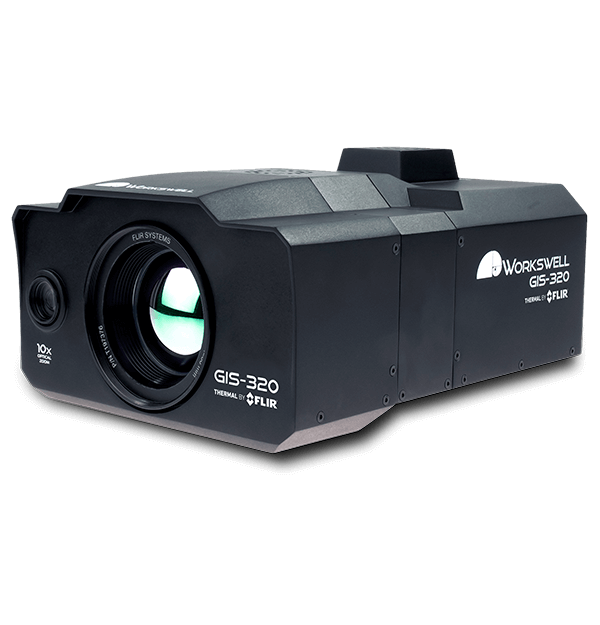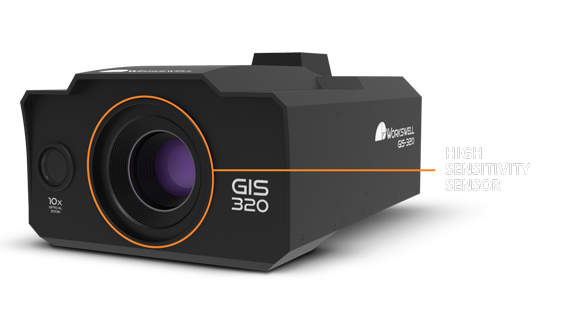 A Wide Spectrum of Detectable Gases
The GIS-320 can detect a wide spectrum of gases which are invisible to the naked eye. Moreover, the GIS-320 has a high sensitivity, with a detection range of between 3.2 – 3.4 µm.
Benzene
Ethanol
Ethylbenzene
Heptane
Hexane
Isoprene
Methanol
MEK
MIBK
Octane
Pentane
1-Pentane
Toluene
Xylene
Butane
Ethane
Methane
Propane
Ethylene
Ready-to-Fly Combo
The GIS-320 thermal camera is fully compatible with the DJI M600 Pro drone, and both are available in a ready-to-fly combo.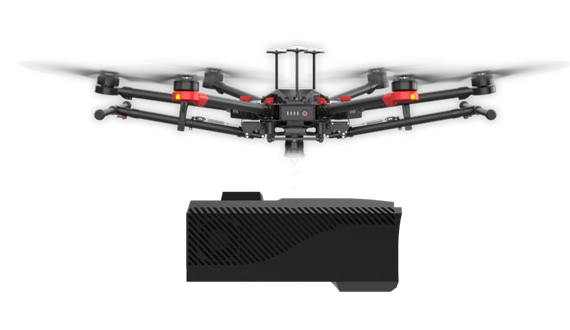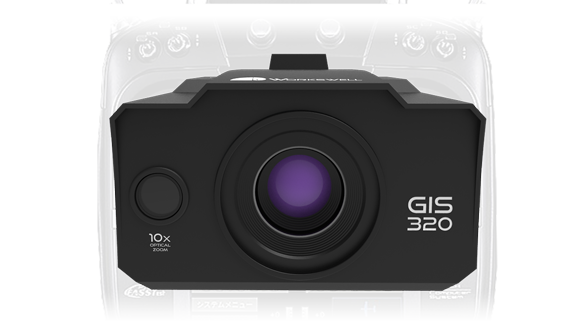 Fully Compatible with an RC Controller
The Workswell GIS-320 is the ideal solution when paired with unmanned air vehicles (drones/UAV systems). Both can be fully operated with one standard RC controller.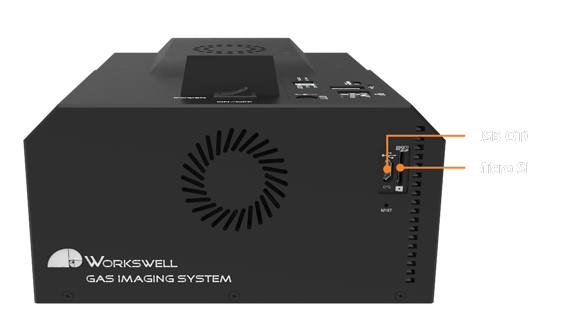 Images and Video Recording
The GIS-320 can also take non-radiometric images and video for later processing. Its data is stored on a 64 GB internal disk or flash drive.
Digital Visible Camera
The Workswell GIS-320 contains a digital camera (full spectrum). Its resolution is 1920 x 1080 pixels and it has 10x optical zoom, which aids in the inspection of specific areas.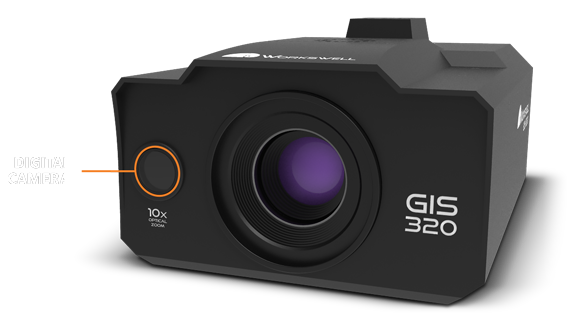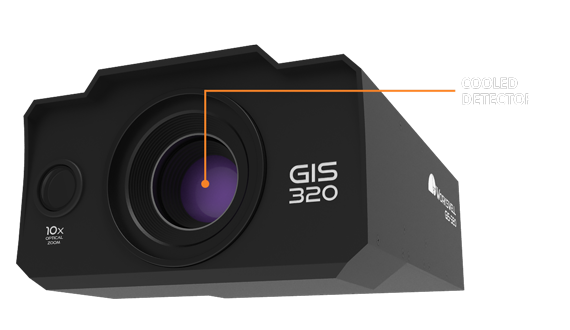 Cooled Quantum Detector
The cooled quantum detector's resolution is 320×240 pixels, making it a powerful addition to this thermal camera. The detector operates at the very low temperature of -200°C, which increases its temperature sensitivity to 10mK. This enables it to detect very small concentrations of gas.
Weight and Dimensions
The camera's dimensions are 201 x 150 x 101 mm, <1.6 kg (7.9 x 5.9 x 3.97 in), <3.5 lb.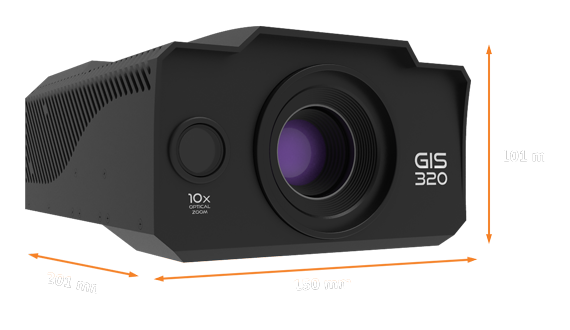 Gas Detection: No Calibration Required
The GIS-320 ability to detect gases is not influenced by any calibration process and will not degrade over time.
FLIR MWIR thermal core used in GIS-320 camera have been independently tested and deemed compliant with the EPA's NSPS 40 CFR part 60, subpart OOOOa sensitivity standard for optical gas imaging equipment.
Testing was performed by the National Physical Laboratory (NPL), which confirmed the the core is capable of imaging a gas that is half methane/half propane at a concentration
of 10,000 ppm at a flow rate of ≤60g/hr from a quarter inch diameter orifice.
FROM OUR CUSTOMERS ON TWITTER
Technical information
Documents & Downloads
Technical information
Cooled Camera
Resolution
320 x 240 pixels
Temperature ranges
Optional temperature ranges (integration time) -20°C…+350°C
Temperature sensitivity
0.010 °C (10 mK)
Frequency
30Hz
Spectral range
3.2 – 3.4 μm, Cooled InSb FPA detector, powered by FLIR
Lenses
24° x 18° or 14,5° x 10.8°
Focus
Automatic Motorized focusing, minimum focus distance 0.5 m
Zoom
Digital zoom 1 – 4x in infrared image
HSM – High Sensitivity mode
Yes
Special GAS detection mode
Yes
Temperature level adjustments
Yes, automatic, manual or moving span
Digital Visible Camera
Resolution
1 920 x 1 080 pixels (Full HD)
Focus and zoom
Autofocus, 10x optical zoom with vibration compensation
Remote control & Video output
Digital interfaces
S.BUS, CAN bus (for DJI control and GPS coordinates), USB 2.0 (data transfer, video recording, FW update), MavLink, CANbus & Command Control Protocol – serial camera control, External GPS connectivity & External trigger
Video output
Digital HDMI 720p (1280 x 720px)
Memory and data recording
Image recording
Radiometric JPEG Radiometric TIFF Non-Radiometric Digital camera JPEG Full HD
Video recording (IR, Vis)
Radiometric full-frame IR recording (raw data recording)
GPS tagging
MavLink, External GPS, A2 or A3 DJI compatible via CAN bus interface
Memory
Internal disk, Direct saving to external Flash drive
Measurement functions
Measurement functions
Max temperature, Min temperature, Centre temperature
File format
Saved in radiometric (raw) format in JPEG, TIFF and video WSEQ
Following gases are detected
Gases (200+ gases detectable)
Benzene, Ethanol, Ethylbenzene, Heptane, Hexane, Isoprene,
Methanol, MEK, MIBK, Octane, Pentane, 1-Pentene, Toluene, m-xylene,
Butane, Methane, Propane, Ethylene and Propylene
Power supply & dimensions
Input supply voltage
10 – 28 VDC, consumption 18 W
Operating temperature
-15°C to +50°C
Dimensions and weight
201 x 150 x 101 mm, <1.6kg (7.9 x 5.9 x 3.97 in), <3.5 lb
Documents & Downloads