Workswell WIRIS ProSc is a state of the art thermal imaging camera used for the most challenging applications like a geological, archeological and forest research, ecological and enviromental research, structural research of buildings (dams, chimneys, bridges) etc. Workswell WIRIS ProSc camera is designed for applications requiring the highest temperature sensitivity and accuracy, excellent service and software support. That's why the camera is offered in a research and educatio kit with SDK (Standard Development Kit) for users application development. Research and education kit also including Workswell CorePlayer volume-licence (5x).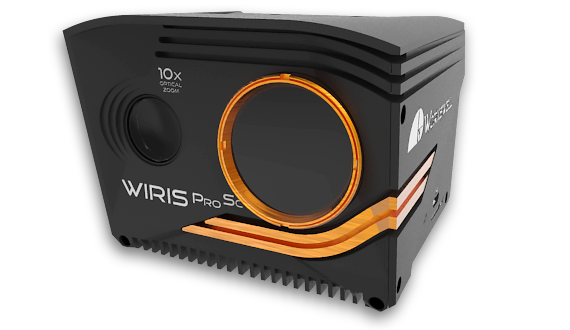 Thermal camera for the most demanding applications
Thermal imaging camera for the most demanding applications
Orthothermogram on the left is composed of 1500 separate thermograms, which were acquired by thermal camera Workswell WIRIS ProSc and composed in Pix4Dmapper software. Orthothermogram map an area of approximately 5 hectares (50,000m2) and were taken by a drone during two separate flights (flight time 50m) from a height of 70m.
▶ Workswel WIRIS ProSc is the only UAV thermal imaging camera that can meet all the requirements of this extremely demanding application ◀
✅ highest thermal sensitivity (< 30 mk)
✅ really low temperature drift even during long flight
✅ very high homogeneity in thermogram
🌦 Water and plant management influence the local microclimate. By draining and removing greenery on large areas, we induce a desert climate, especially in cities or fields, that does not solve any technical equipment. Thanks to this image, it is clear from which places in the landscape drought and loss of vegetation coming from. We can see that the naked hill (affected by deadly soil erosion) on the right above the vineyard warms its surroundings and reaches through the vineyard.
🌳 On the other hand, the vegetation to the left of the vineyard causes cooling, even in its immediate vicinity, which also reaches part of the vineyard (the vineyard itself covers an area of approximately 2 ha). The picture shows what remedial action should be taken and where it will be easiest to start restoring vegetation.
🌿 We belive, that in terms of land management, Workswell WIRIS ProSc is a useful tool. And with its help it is possible to localize, visualize and reverse local processes, the cause of which is currently considered global and the processes are considered as locally irreversible.
We want you… to measure accuracy
Each WIRIS ProSc thermal camera is precisely calibrated in the climatic chamber. Not only is the accuracy of the thermal camera when measuring different temperatures, but also at different operating temperatures. We therefore managed to achieve absolutely unmatched measurement accuracy in the field of aerial thermography, ti. +-2°C or +-2%.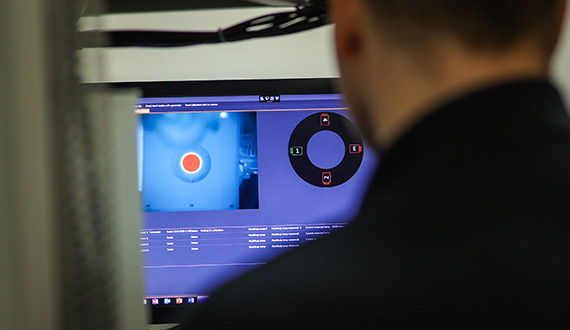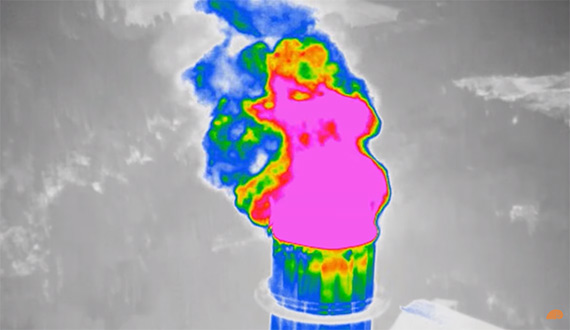 High temperature measurement
Many aviation applications of thermography have non-standard requirements, such as high temperature measurements. The WIRIS ProSc Thermal Camera therefore offers (using an external filter) the possibility of measuring high temperatures up to 1500 ° C.
R&D software and SDK support
Workswell WIRIS ProSc is designed primarily for research and development workers. This is why the kit with WIRIS ProSC including also CorePlayer (volume license for 5 users), SDK for a custom application development. These libraries gives access to low-level functionalities and enables the application developer to fully maximise the potential of the camera hardware.
See more information in Data SDK tutorial and Stream SDK tutorial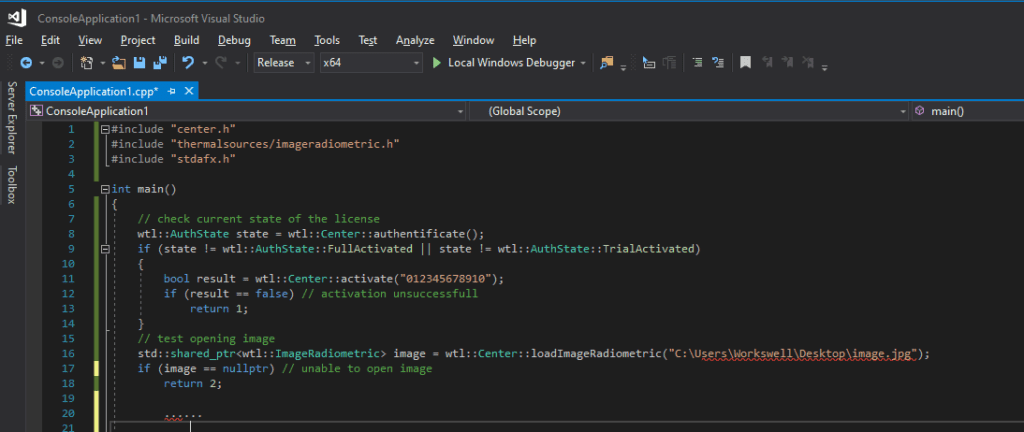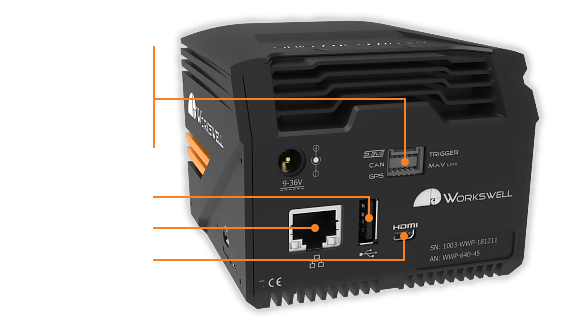 Many interfaces
Workswell WIRIS® ProSc also brings an interface enabling the widest range of connections to the drone, the control unit, an external GPS sensor etc. Wi-Fi low latency live video streaming and command link is also available. The following HW interfaces are avaible:
S.Bus
CAN bus (DJI M600 and A3 controller compatible)
Ethernet (RJ 45)
MavLink
external GPS connection
external trigger
Compatible with any platform
Many interfaces (CAN, S.BUS, Ethernet, USB and more) make Workswell WIRIS
Sc
a completely versatile system that can be placed on the DJI M600 Pro drone, but also on the drones of most other manufacturers such as AceCore Zoe, VideoDrone, Flydeo, Height Technologies etc.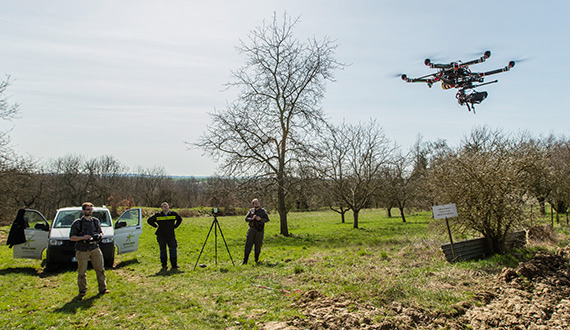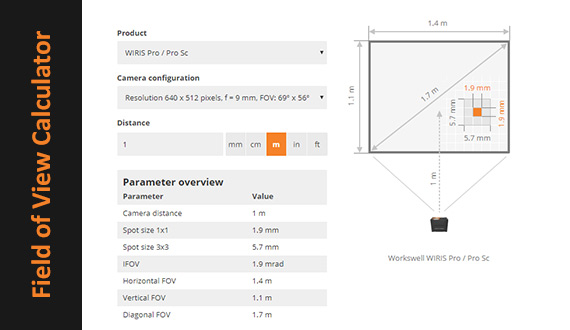 Interchangeable lenses
Thermal imaging camera WIRIS
Sc
can be purchased with an 18°, 32°, 45° or 69° lens. However, the lens is user interchangeable at any time and the camera can be supplied with additional lenses as accessories. Each lens is calibrated separately.
Field of View Caculator
WIRIS OS – maximize the full potential
WIRIS OS is development for over 4 years (and tested on the previous generations of the Workswell WIRIS® cameras) and therefore WIRIS OS allows you to
maximize the full potential of sensoric and computing hardware
and thus get the functionalities which the similar products with no operating system cannot even come close to.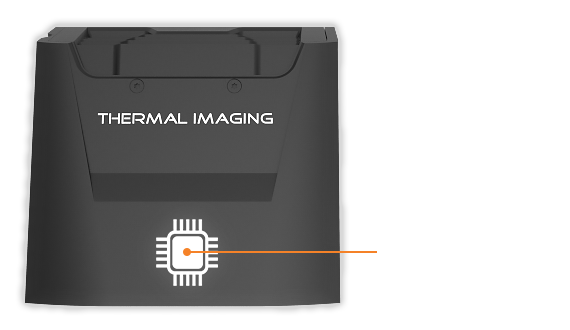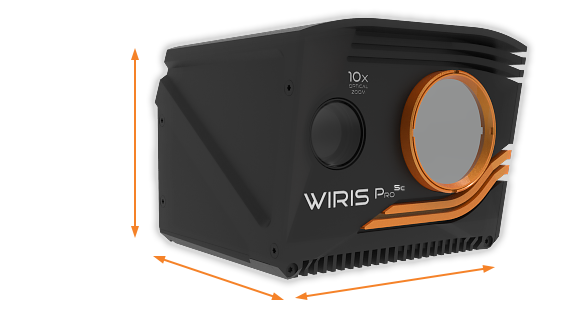 Weight and Dimensions
Workswell's WIRIS® ProSc weighs less than 450 g, which very convenient for drone usage.

WEIGHT: < 450 g
DIMENSIONS : 83 x 85 x 68 mm
Technical information
WIRIS ProSc Key features description
Super Resolution Mode
WIRIS ProSc takes Super Resolution Mode 1.3Mpx IR images in one shot
Operating onboard system
WIRIS OS for full real-time data streaming and control during the flight

operating system ensures the full access to all camera functions
easy camera control via S.Bus, CAN bus, MavLink, RJ-45 or Trigger

10x Optical Antivibration zoom
Full HD 10x optical zoom camera with anti-vibration compensation
Thermal camera specification
IR camera resolution
640 x 512 pixels
IR Super Resolution Mode
1 266 x 1 010 pixels (improvement of native resolution up to 1.3 Mpx)
FPA active sensor size
1.088 x 0.8705 cm
Temperature ranges
-25 °C to +150 °C
-40 °C to +550 °C
optional temperature range 50 °C to 1 000 °C
optional temperature range 400 °C to 1 500 °C
Temperature sensitivity
30 mK
Accuracy
±2 % or ±2 °C
Frame rate
30 Hz or 9 Hz
Spectral range / detector
7.5 – 13.5 μm / Uncooled VOx microbolometer
Calibration of each lens
Package includes a calibration certificate
Available lenses
18°, 32°, 45°, 69° (exchangeable lenses, all calibrated), visit FOV calculator
Protective filter on lens
Filter protects the lens against external damage during the flight
Digital zoom
1 – 14x continuous
Digital visual camera
Resolution
1 920 x 1 080 pixels (Full HD), 1/3" sensor, Auto white balance, Wide dynamic range, Backlight compensation, Exposure and Gamma control
Optical zoom
10x optical zoom with vibration compensation
View angle
ultra zoom 6.9° – extra wide 58.2°, focal 33.0 mm – 3.3 mm
Noise reduction
Special 3D noise reduction function
Focus
Autofocus with Direct Focus Zoom synchronization
Memory and data recording
Memory
Internal high-speed SSD 128GB or 256GB for image and video recording
External slot for Micro SD card & USB 2.0 for USB stick for taking images
Image and video formats
Radiometric JPEG images and Digital camera Full HD JPEG images
Radiometric TIFF images (Pix4D and Agisoft compatible for 3D modeling)
Digital camera h.264 encode video HD recording
Radiometric full-frame IR recording (raw data recording in 30 Hz)
GPS geo-tagging (image & video)
GPS tagging (image & video)
MavLink or External GPS or DJI A3 controllers compatible via CAN bus
Interfaces & real-time remote control
10-pin digital port
S.Bus
CAN bus (compatible with DJI M600 and A3 controllers)
MavLink
External GPS connectivity
External trigger
Documents & Downloads