The Workswell WIRIS® Pro is a specially designed thermodiagnostic device. Its thermal camera is equipped with an LWIR microbolometric sensor with 640×512 px resolution (in the 7.5 – 13.5 μm range), and its 'Super Resolution Mode' functionality delivers a final thermogram in 1266×1010 px resolution. The RGB camera comes with Full HD (1920 x 1080 px) resolution and provides an absolutely unrivalled optical ultrazoom – as much as 10x (6.9° to 58.2° field of vision). The highest possible temperature that the thermal camera can measure is 1,500 °C.

Broad temperature range

Precise laboratory calibration

Thermal frame
Highest sensor resolution on the market

10x optical RGB zoom

Interchangable lenses
This Thermal Camera Delivers Both Inspection and Mapping
The WIRIS Pro thermal camera is designed with both mapping applications and inspection work in mind.
Live, high-resolution and high-image-frequency visuals delivered straight to the screen
Thermal and Visual Comparison
Photogrammetry, 3D mapping and 3D modeling are standard post-processing tools that enhance the presentation and visualization of captured aerial data. With our Workswell WIRIS Pro thermal camera, you can offer customers and colleagues the most compelling images on the market.
In the example below, our high-resolution ortothermogram composed of over 600 separate thermograms in Pix4D (see Pix4D & bundle) visualizes a photovoltaic power plant with an area of 1.5 hectares. This picture was taken during a single, 22-minute-long flight.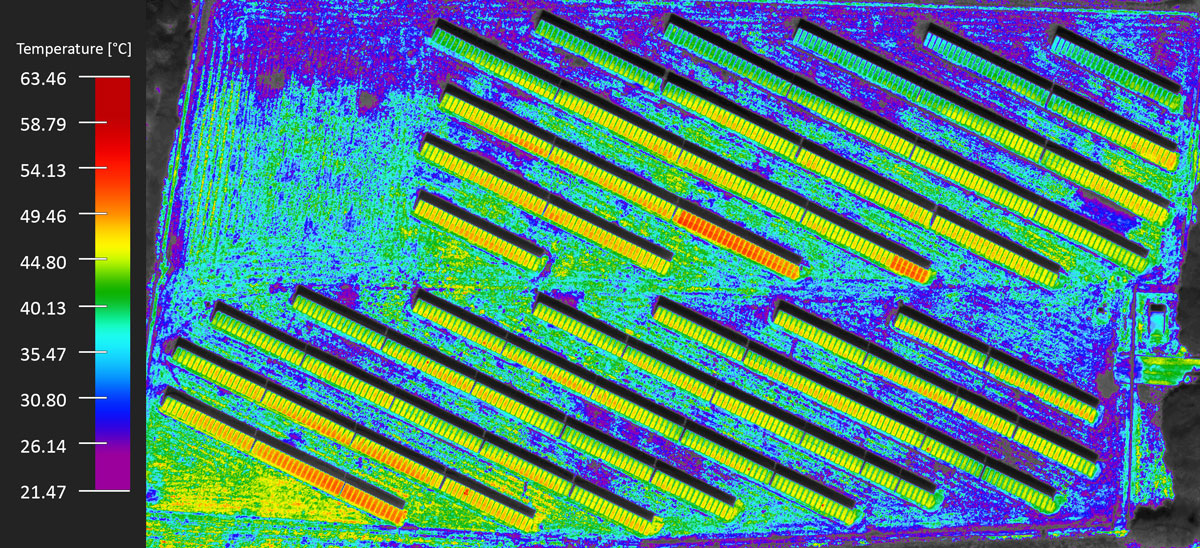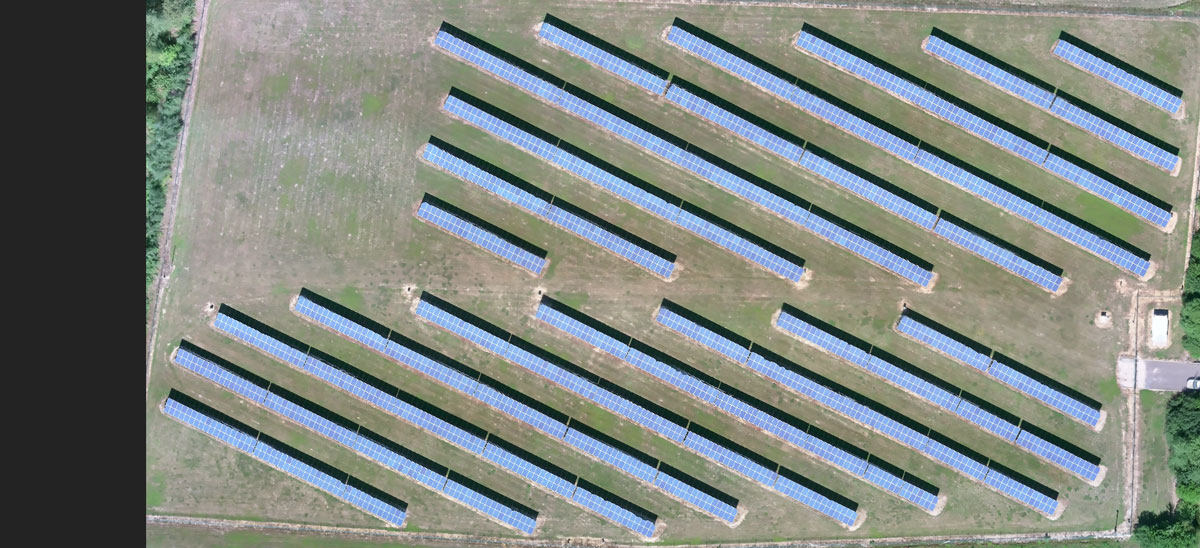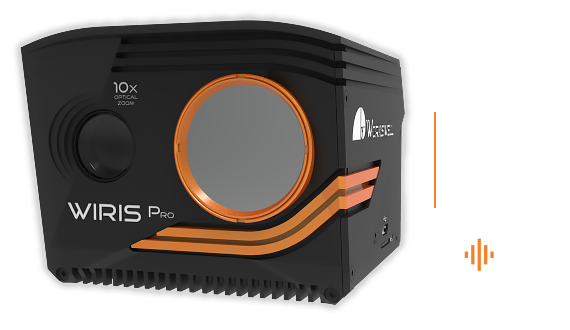 Precision Metrology
We know that industrial applications present a serious challenge to metrological endeavors. To ensure the accuracy of our devices in the face of this challenge, we calibrate each of our lenses individually. Our thermal cameras are individually manufactured and precisely calibrated, and we deliver a final calibration certificate along with each unit.
High Resolution and Thermal Sensitivity
Our thermal camera is equipped with an LWIR microbolometric sensor with 640×512 px resolution and Super Resolution Mode functionality, which facilitates the creation of a final thermogram at 1266 x 1010 px resolution. The standard WIRIS Pro delivers 50 mK temperature sensitivity, and we offer a 30 mK premium version.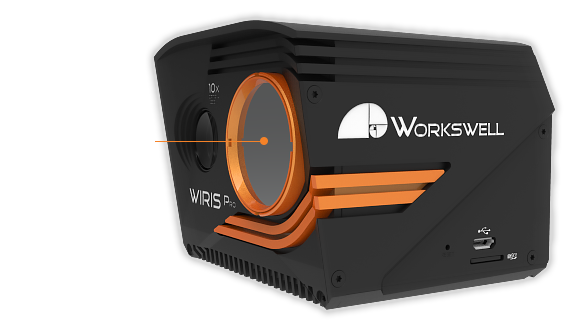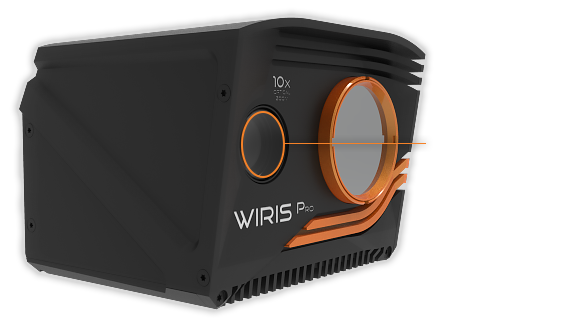 Precise RGB Camera with Optical 10x ZOOM for Inspections

The  WIRIS Pro's RGB camera comes with Full HD (1920 x 1080 px) resolution and, most importantly, it provides an absolutely unrivalled optic ultrazoom – up to 10x (6.9° to 58.2° field of vision). ZOOM is fully synchronous with the thermal camera and makes for an advanced inspection tool.
Many Interfaces
Workswell's WIRIS® Pro also offers an interface enabling the widest range of connections to the drone, the control unit, an external GPS sensor, and other devices. A Wi-Fi low latency live video streaming and command link is also available. The following HW interfaces are on offer: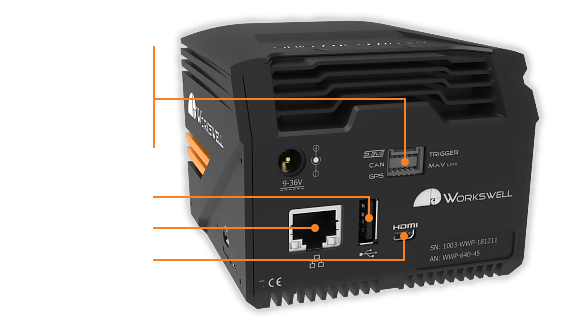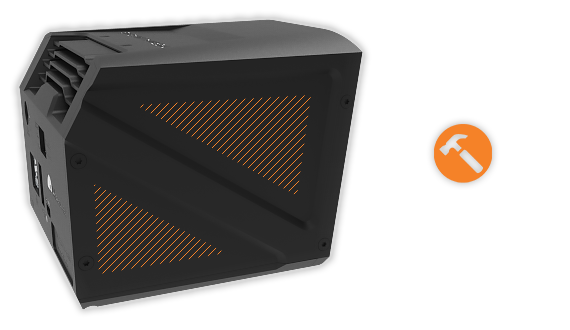 Durable Design
The WIRIS® Pro is ensconced a rugged casing of lightweight aluminum. In addition, its most sensitive part, the thermal camera lens, is protected by a replaceable protective cap made of germanium.
Video Streaming and Commands via WiFi
RTSP video streaming, image and command transfer through Wi-Fi add to the WIRIS OS functionalities. These features are provided by the RJ 45 Ethernet port.
See more information in our Stream SDK tutorial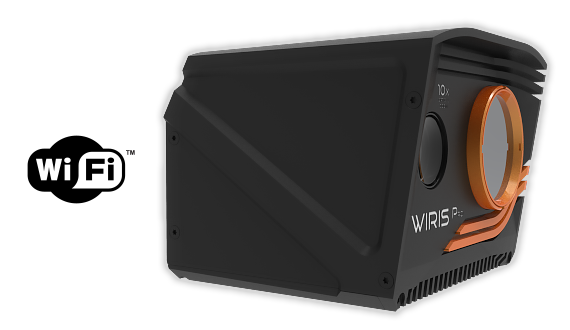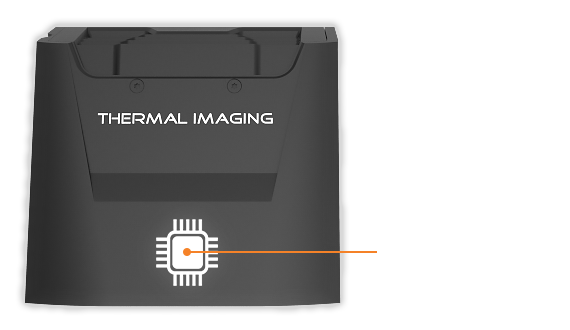 WIRIS OS – Capture the Potential
WIRIS OS has been in continuous development for over 4 years, and it has been tested on previous generations of Workswell WIRIS® cameras. Today, WIRIS OS allows you to capture the full potential of the camera's sensor and computing hardware, and thus enjoy functionalities which similar products without an operating system cannot even come close to.
128 GB or 256 SSD Disk, External USB Disk or microSD Card
Workswell WIRIS® Pro camera is equipped with an internal SSD disc with 128 GB or 256 GB memory for recording. You can also save data to an external USB disk or microSD card.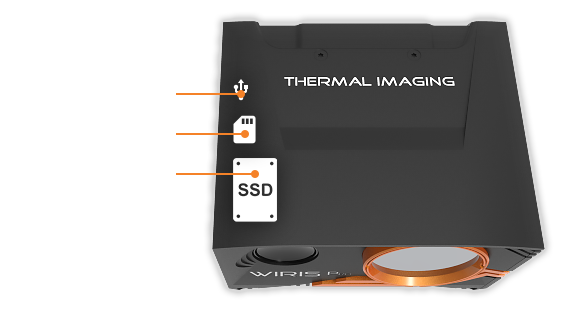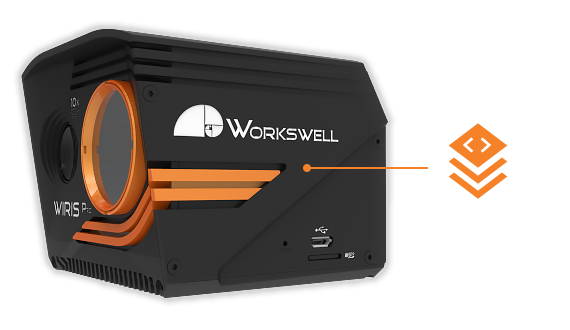 SDK – an opportunity to develop your own applications
We provide an SDK (Standard Development Kit) with every Workswell WIRIS® Pro to enable you to develop your own applications. These libraries give access to low-level functionalities and enable the application developer to maximize the potential of the camera's hardware.
See more information in Data SDK tutorial
Picture in Picture Functionality
The innovative picture-in-picture feature allows you to merge a thermal image with an RGB camera image in real-time, even with 10x optical ZOOM.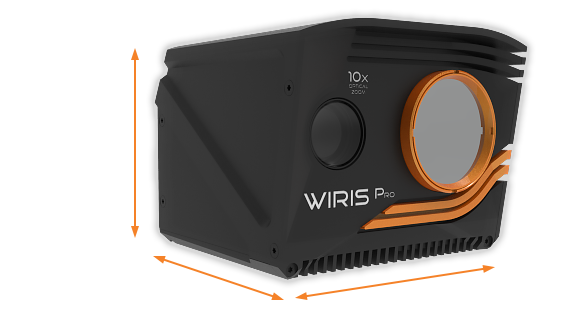 Weight and Dimensions
Workswell's WIRIS® weighs less than 430 g, which makes it very convenient for drone use.

WEIGHT: < 430 g (0.95 lb)
DIMENSIONS : 83 x 85 x 68 mm (3.26 in x 3.34 in x 2.67 in)  
From our customers on social media
Workswell introduces a new state of the art Zoom & Thermal camera - Wiris Pro. Under Acecore technologies Zoe and perfectly combined with Gremsy S1, they are a great inspection tool set.
Photos of Drone Pro Works pic.twitter.com/CcIzsxcQH5

— Gremsy (@gremsytech) May 13, 2019
Technical information
Documents & Downloads
Technical information
WIRIS Pro Key features description
Super Resolution Mode
WIRIS Pro takes Super Resolution Mode 1.3Mpx IR images in one shot
Operating onboard system
WIRIS OS for full real-time data streaming and control during the flight

operating system ensures the full access to all camera functions
easy camera control via S.Bus, CAN bus, MavLink, RJ-45 or Trigger

10x Optical Antivibration zoom
Full HD 10x optical zoom camera with anti-vibration compensation
Thermal camera specification
IR camera resolution
640 x 512 pixels
IR Super Resolution Mode
1 266 x 1 010 pixels (improvement of native resolution up to 1.3 Mpx)
FPA active sensor size
1.088 x 0.8705 cm
Temperature ranges
-25 °C to +150 °C (-13 °F to 302 °F)
-40 °C to +550 °C (-40 °F to 1 022 °F)
optional temperature range 50 °C to 1 000 °C (122 °F to 1 832 °F)
optional temperature range 400 °C to 1 500 °C (752 °F to 2 732 °F)
Temperature sensitivity
Standard 0.05 °C (50 mK) or optional 0.03 °C (30 mK)
Accuracy
±2 % or ±2 °C
Frame rate
30 Hz or 9 Hz
Spectral range / detector
7.5 – 13.5 μm / Uncooled VOx microbolometer
Calibration of each lens
Package includes a calibration certificate
Available lenses
18°, 32°, 45°, 69° (exchangeable lenses, all calibrated), visit FOV calculator
Protective filter on lens
Filter protects the lens against external damage during the flight
Digital zoom
1 – 14x continuous
Digital visual camera
Resolution
1 920 x 1 080 pixels (Full HD), 1/3" sensor, Auto white balance, Wide dynamic range, Backlight compensation, Exposure and Gamma control
Optical zoom
10x optical zoom with vibration compensation
View angle
ultra zoom 6.9° – extra wide 58.2°, focal 33.0 mm – 3.3 mm
Noise reduction
Special 3D noise reduction function
Focus
Autofocus with Direct Focus Zoom synchronization
Memory and data recording
Memory
Internal high-speed SSD 128GB or 256GB for image and video recording
External slot for Micro SD card & USB 2.0 for USB stick for taking images
Image and video formats
Radiometric JPEG images and Digital camera Full HD JPEG images
Radiometric TIFF images (Pix4D and Agisoft compatible for 3D modeling)
Digital camera h.264 encode video HD recording
Radiometric full-frame IR recording (raw data recording in 30 Hz)
GPS geo-tagging (image & video)
GPS tagging (image & video)
MavLink or External GPS or DJI A3 controllers compatible via CAN bus
Interfaces & real-time remote control
10-pin digital port
S.Bus
CAN bus (compatible with DJI M600 and A3 controllers)
MavLink
External GPS connectivity
External trigger
CANbus & UART
Documents & Downloads